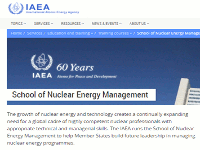 The Nuclear Energy Management (NEM) School has been regularly held jointly by Japan and IAEA. The purpose of the school is to provide a unique international educational experience aimed at building future leadership to manage nuclear energy programmes, to nourish a wide range of knowledge on issues related to the peaceful use of nuclear technology, and to broaden individual networking with people interested in nuclear energy from all over the world.
The Japan Nuclear Human Resource Development Network (JN-HRD.net) organizes the series of joint IAEA-Japan NEM schools for young Asian nuclear professionals since 2012.
See below for the prospectuses and other program outlines,
Japan-IAEA Joint NEM School 2012
Following are the summary reports of the past Japan-IAEA Joint NEM Schools.
Related Link:
JAIF International Cooperation Center (JICC)
, for cooperative human resources development (HRD) activities in individual newcomer countries.
JICC is the one-stop service point of Japan for HRD overseas.