The "PRACTICAL ARRANGEMENTS among IAEA, JAIF, JICC and JAEA-" (the Agreement) was signed on August 3, 2017 at the University of Tokyo (Hongo, Tokyo) between IAEA, JAIF, JICC and JAEA. The agreement is on the human resources development and encompasses development of educational materials and sharing of educational programs.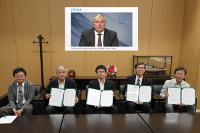 [Background]
The Japan-IAEA Joint School of Nuclear Energy Management (NEM School) has been operated since 2012 with great success. The Agreement strengthens the cooperative relation between the IAEA and JN-HRD Net for continued support to the effective operation of the Joint NEM School and other relevant activities in Japan. The signatories of Japan are the JN-HRD.Net joint Secretariat (JAIF, JICC and JAEA) on behalf of the JN-HRD.Net.
[Scope of Agreement]
CompreheComprehensive Agreement concerning nuclear human resource development including knowledge management, education, training, and outreach.
Activities include, but not limited to,
[Scope of Cooperation]
| | |
| --- | --- |
| (a) | Exchanging and disseminating information, including publications and journals, and sharing experiences and best practices in the area of nuclear HRD; |
| (b) | Exploring opportunities to develop publications and educational materials, and sharing them through the IAEA online platform, Cyber Learning Platform for Network Education and Training and other available tools for the benefit of students and professionals from IAEA Member States; |
| (c) | Exploring opportunities to cooperate in the organization of the relevant conferences, symposia and workshops; and |
| (d) | Promoting and supporting nuclear HRD activities of the Parties for young nuclear professionals, including cooperation in organizing relevant training courses and/or fellowship programmes. |
[Term of Validity]
Three (3) years, starting with the date of signatures by all parties.
Signed for IAEA by Mr. Mikhail V. Chudakov (DDG-NE),
Signed for JAIF and JICC by Mr. Akio Takahashi (President) and
Singed for JAEA by Satoshi Sakurai (Director, JAEA Human Resource Development Center)

The Agreement can be extended upon consent of all parties concerned.
The Agreement can be terminated 60 days after notification to other parties concerned.
(note) A separate agreement is independently effected between IAEA and the University of Tokyo in 2010.